The Gallery:  Where Nature and Art Converge

Cross the creek to experience the Liquidambar Art Gallery & Studios located in the magical heart of the Sequatchie Valley, just 45 minutes from Chattanooga. Within it, you will find a visual and tactile feast which features ceramics, paintings, jewelry, flameworked glass, kaleidoscopes, metal ornaments and sculptures –  all unique gift ideas. Much of the art is made on-site in our studios, and a portion of it is brought in from talented local artists.
Watch our artists paint, work glass, and make pottery as you enjoy unique snacks or teas. A cozy place to relax and chat with the artists is the gallery's library, where you will find S.V.I.'s favorite books on the good life.
There are  special goings-on each weekend, including sales of our garden's products, hikes, tours, workshops and special exhibits, as well as community volunteer days.
Hike on our marked mountain nature trails, located on 350 acres of land protected by the Land Trust of Tennessee. Learn about over 100 shrubs and trees in the forest and gardens by walking the numbered Pipsissewa Arboretum Trail.
Educational and inspirational tours of the greenhouse, gardens, and solar-powered natural building structures made of rock, logs, clay, and straw are useful for those of all ages who are interested in a more sustainable lifestyle.
Dress for adventure!
We are be open for sales most weekends, from 10 am to 5 pm CST.
If you have any questions or would like to make an appointment, please give us a call at:
(423)949-5922,
(423)949-4598,
or email education [at] svionline [dot] org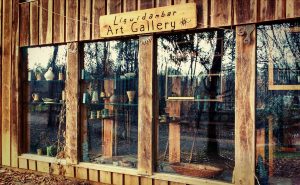 For more information, see Liquidambar's website or Facebook page.
10% of sales from the Liquidambar Art Gallery help support the educational programs of S.V.I.