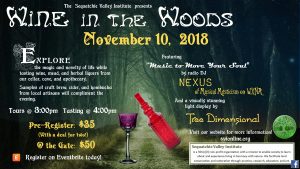 Take a guided tour on land protected by the Land Trust of Tennessee through Permaculture landscape, hand-crafted solar structures, and Pipsissewa Arboretum Trail. Then, settle into a relaxed evening of delicious and exotic specialties.
This year, in addition to our regular tasting, we will be hosting local artisans showing off their delightful drink creations, including craft beer, cider, and kombucha.
The evening's entertainment will include "Music to Move Your Soul" by Nexus of Musical Mysticism on WXNA, and a visually stunning light display by Tree Dimensional.
A donation-based brunch with plates of $10-$25 /plate will be provided on Sunday morning at 11:30 with ingredients from the vendors of Fredonia and Main Street Farmers Market, and coffee from local Velo Coffee Roasters.


Click here to pre-register and save $15 off
your ticket price on Eventbrite!

Should you find yourself with prior engagements on the
10th of November,  but still looking to show support for
Sequatchie Valley Institute with a monetary contribution, please
click the Donate Button to donate securely with PayPal: