Permaculture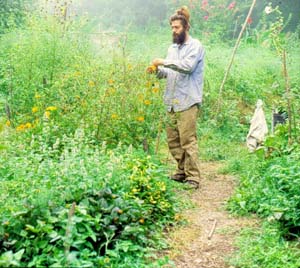 The landscape design at S.V.I. comes from a land ethic based on preserving and recovering the natural biodiversity of our bioregion through the land-use and community-building movement known as Permaculture. This design philosophy encompasses ecological landscapes that produce food, support energy-efficient buildings, and promote recycling of materials. These components are placed in an order that is synergistic and in harmony with the land and people.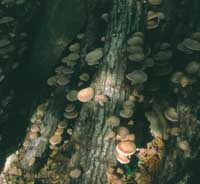 At S.V.I., over four acres planted in edible landscapes are integrated with the forest ecosystem. Hundreds of fruit and nut trees, vegetable, herb and flower gardens, and vines produce organically-grown food, teas and medicines.
Nestled between the forest and gardens are ponds with myriads of creatures, places for nature study and quiet reflection. We continue to maintain and improve the edible landscape as an educational experience for visitors. The gardens also provide outdoor laboratories for new techniques in ecological agriculture. Through our workshops, we illustrate that edible landscaping and the creation of Permaculture designs are rewarding, creative and exciting endeavors.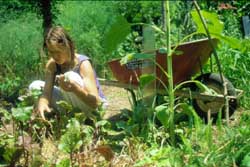 Acknowledging the world's ever-growing need for food and fiber resources, we support and encourage the reclamation and sustainable use of land, which is currently deteriorating in the hands of industry and modern agriculture. Low-input high-yield forms of food production used in S.V.I. gardens can be adapted to a wide range of conditions throughout the world. As informed citizens of the world become disenchanted with factory farming techniques that rely upon chemicals, our example offers agricultural alternatives that work.
Natural Building and Architecture
Architectural goals are to develop and maintain the property and facilities as examples of technologically appropriate and ecologically friendly design, harmoniously integrated with the forest and edible landscape. Handcrafted buildings utilize native and salvaged materials. Passive solar design and attached greenhouses provide heating, cooling and daytime lighting. The structures inspire visitors and serve the needs of all who come to S.V.I. to learn.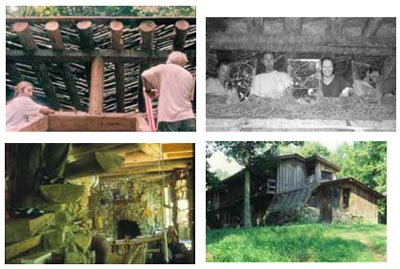 Moonshadow, the main facility on the property, provides meeting spaces, kitchen, a library and staff residence. Other structures include Tipple, a timber-framed wood-working shop; Mud Dauber, a cob (clay, sand, and straw) residence; Como Se Llama, the llama barn and crafts gallery; Anoli, a craft workshop, meeting space and guest space; Alpenglow, a pottery kiln shed; Four Oaks and Crow's Nest bungalows; a tool shed; a hoop-house for winter gardening; two cob bread ovens; kiwi and grape arbors and composting toilets, an earthen bag/earth ship hybrid called "Earthshag", and the Barking Beetle Conference Center. Please contact us if you would like more information about this "green" building project.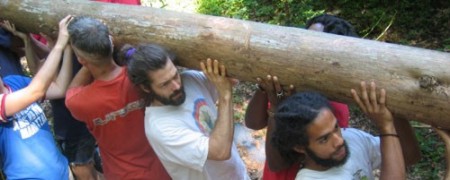 Alternative Energy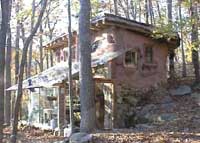 The sun provides electricity for Moonshadow and surrounding buildings. An array of solar panels tracks the sun to collect energy which is stored in batteries to provide electricity. A stream has been diverted to a small reservoir which will eventually power a micro hydro (water) system. In order to round out the energy design, a wind charger system has been added to the system.
A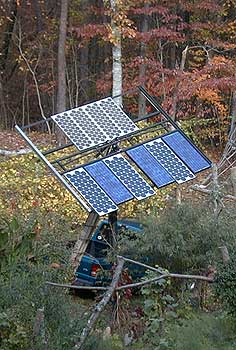 ll structures represent exemplary passive solar design. Large areas of glass in south-facing walls admit the sun in winter. The sun's heat is stored in architectural rock and water and in attached solar greenhouses. North walls are well-insulated with few windows. Energy-efficient rock fireplaces and stoves provide supplemental heat. Deciduous trees, overhangs, and venting provide summer cooling. These innovative designs are favorites with the public during tours.
We provide informative tours of the alternative energy systems and architecture at S.V.I.