Join us next spring!

Each spring, the rich ecosystem in the coves and hollows of
Sequatchie Valley awakens with enthusiasm.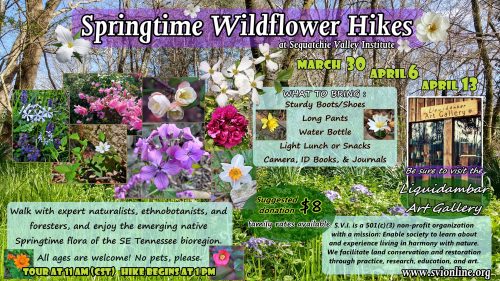 Emerging ragwort, buckeye, bloodroot, trout lily, trilliums, redbuds, and dogwood blossoms dazzle the eyes of the
adventurous as expert naturalists, ethnobotanists, and foresters guide groups of hikers through the wilds of the Southeast Tennessee bioregion.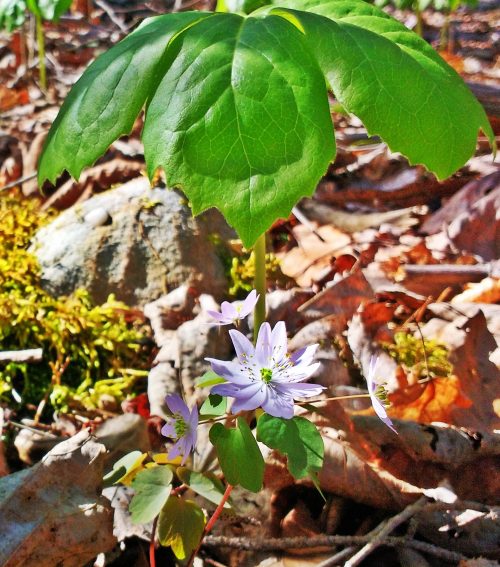 11:00am (CST): Tour Moonshadow,
four acres of surrounding Permaculture landscape, hand-crafted structures, and Pipsissewa Arboretum Trail.

1:00pm: Continue with a two-hour walk through the forest below the bluffs, discovering native flora.

3:00pm: Take part in a more rugged hike along Hick's Creek and up the canyon.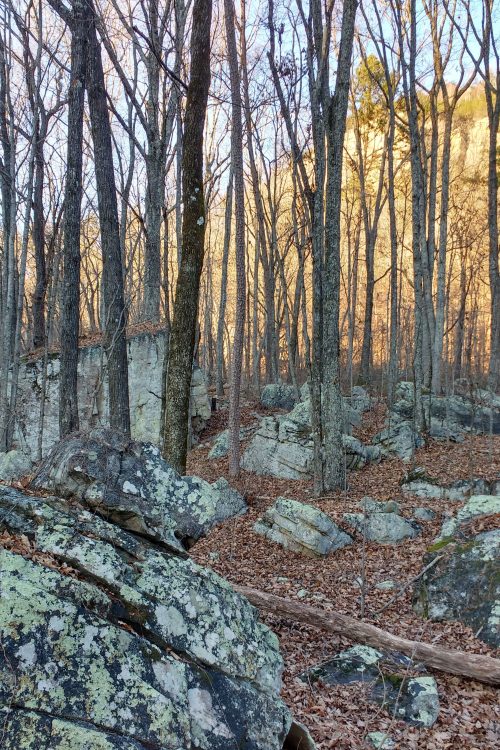 The suggested donation to participate in the
Springtime Wildflower Hikes is $10
Family rates are available.
Thank you for your consideration!
WHAT TO BRING:
Sturdy boots/shoes
Long pants
Water bottle
Light lunch or snacks
Camera, ID books, & journals


All ages are welcome!
As we are a wildlife refuge area, we do ask that pets stay at home.

While you're here…
Be sure to visit the Liquidambar Art Gallery, where you will find pottery, paintings, glass works, and sculptures created by local and resident artists! Complimentary wine and cheese provided.