This year's Food for Life event will focus on how to be a locally-sourcing and self-sufficient vegan!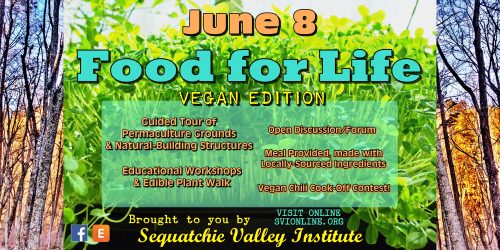 Going vegan is not by any means the only way to health, though many do find benefit. If you are curious to learn more about this lifestyle (or if you just wish to enjoy a full meal & wonderful company in a nature reserve), then come on out and join us on June 8!

We will begin (as always) with a guided tour of the Permaculture grounds and natural-building structures.
There will be many classes covering a variety of topics, including how to grow your own food, how to source food locally, and even how to find it in the wild during a guided edible wild plant and fungi tour. Stay tuned for more details!
A full, hearty meal will be provided that will include locally-sourced ingredients from farmers here in the Sequatchie Valley and from Hamilton County.
A Home-Cooked Vegan Chili Contest will be held, so bring your best culinary creation for your chance to win a prize!


Tickets on sale now!

Click here to register online and receive a significant discount on your ticket!