We are looking for competent, self-motivated self-starters who can work independently to take on and follow through with SVI projects. The instruction is usually informal and sometimes sporadic. Most learning is from day-to-day immersion in the activity.
Projects may include: intensive organic gardening and edible landscaping (permaculture), food preservation, construction, repair and maintenance, solar energy, office work, grant writing, education (conducting tours and representing SVI at outside venues), ecological research, removal of invasive plants, and grounds-keeping. See below for details. Projects change frequently as needed and not all will be available.
Fees are $10/day. This includes housing and all meals. Participation in meal preparation and kitchen maintenance is required. Rustic accommodations are in cabins and open shelters. Tent sites are also available. Be prepared for outdoor toilets and showers. Water and electricity may be limited.
We are also looking for experienced workers who are interested in taking on more rigorous and long term projects for an entire season, such as head gardener, office work, PR, grant writing and media, maintenance and building, rainwater harvesting, and solar electricity. Please call for details of current needs.
Lifestyle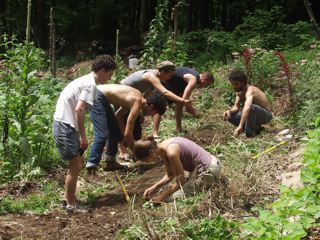 In addition to being an office and research center for SVI, Moonshadow functions as a home for long-term residents. From March through October, we invite people interested in sharing our work to join us. These numbers create a community within which we all take roles.  All residents share in cooking, cleaning, and general community upkeep.
Recreational activities include sports, games, music making, and hiking on the surrounding 350 acres of forest land that is permanently protected through the Land Trust of Tennessee. We also make occasional trips to Chattanooga (1 hour away) for shows, shopping, and meetings.
The program has attracted a rich mixture of visitors and residents from Brazil, Puerto Rico, Australia, Germany, Canada, and all around the United States.
Natural Building
Both the landscape and architecture of Moonshadow have been in constant development since 1971. Each step of development has been guided by a desire to develop a land ethic based on forest protection, sustainable forestry and agriculture, and artistic expression. All of the structures are hand-crafted with materials found on-site in addition to salvaged materials collected in Chattanooga and the surrounding area.
For folks interested in the skills and technology of construction, there are a number of projects underway. Skills and knowledge to be gained may include stone work, cob (clay), timber frame design and construction, passive solar design, alternative energy including solar and hydro, sustainable forestry, rainwater harvesting, and using alternative building materials.
Edible Landscaping and Gardening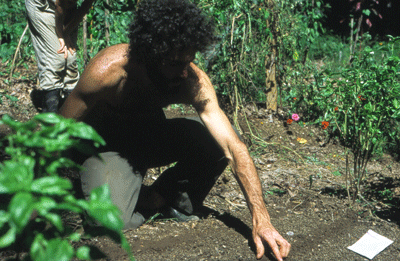 Moonshadow gardens include mature orchards, a vineyard, blueberries and brambles, and raised organic vegetable/herb beds. Just completed is a 72 X 24 high tunnel season extension greenhouse, funded by USDA.
Opportunities abound for those who wish to learn about permaculture and gain hands-on experience in the gardens, greenhouse, and orchard. In March, gardening begins with planting flats and moves quickly to planting beds, watching things grow, weeding, harvesting, and preparing and preserving food (and of course eating) well into September. If you plan to be here for a short time, expect to see a small part of the whole. However, every day offers many learning experiences.
Workshops and Educational Programs
Education is one of our major goals. We invite visitors for tours and workshops. School groups, home-schoolers, and scouts (badge programs available) come for a 3-hour hike and tour of our structures and gardens. We strongly support the "No Child Left Inside" program to get kids exposed to nature. In addition, we have frequent open house tours and adult group visits. We are always happy to have our resident interns help with organizing and conducting the tours after training.
Interns are needed to help organize, advertise, and manage workshops. Management includes setting up schedules for workshop sessions as well as collecting fees and arranging housing, meals, and cleanup for workshop participants. Workshop fees are waived for current interns. If you have expertise in workshop topics, we may ask you to conduct sessions.
Workshops vary from season to season. Workshops in the past have included: Fruit-tree grafting and pruning, permaculture, native medicinal and culinary plants, natural building, food for life, Natural Holiday Crafts (in December), shiitake mushroom cultivation, and more.
Ecology and Research
The forest, streams, bluffs, and gardens that surround Moonshadow offer a living laboratory of ecology. Our goal is to learn to combine traditional knowledge with appropriate scientific methods, to interact intelligently with our environment as we study it, and to minimize our impact on the forest ecosystem. Research programs have included study of rare cave invertebrates, effects of UV radiation on pines, forest diversity, effects of fire on the forest, and plant diversity. Let us know well in advance if you are interested in participating in a research project. You may wish to consider obtaining college credit through your university for participation in our programs. We would recommend that you also arrange for an individual research program through your university.
Non-profit Organization
Interns are always needed to help with general office management, computer work, fundraising, grant-writing, publicity, media, and non-profit development. Short-term interns may not have the opportunity to get deeply involved with non-profit organization, but there's always plenty to be done!
EARTH MATTERS!
Earth Matters! is the SVI newsletter, published sporadically. The newsletter provides information on our current and future activities, our interns, staff, and board members, and funding needs. It also provides under-reported news and information, and thought-provoking art and literature by our staff, board, and interns. We always need help with editing, writing, publishing, and distributing.
Housing & Items to Bring
There are a limited number of out-buildings available for occupancy. Bring all bedding including a pillow and camping pad. You may want or need a tent. Required items to bring include a headlamp flashlight, lots of batteries or rechargeables, two pairs of shoes (indoor and outdoor), hiking and rubber boots (we have snakes), a raincoat, hats, long pants and long-sleeved shirts, a personal towel and washcloth.  You will need toiletries and natural organic-based personal products such as shampoo, insect repellent, etc.
If you plan on doing office work or personal email, you may bring a laptop computer. A community laptop and DSL are available; however, our solar electricity may limit use.
SVI is located in a rich Appalachian mountain forest with hot humid summers and cold winters.   Residents must be prepared to deal with mosquitoes, ticks, chiggers, no-see-ums, poisonous snakes, large bears and poison ivy. (Just kidding about the bears). Living conditions are rustic, with limited electricity and water.
Please, absolutely no pets or livestock.
How to Apply
If you're interested, tell us about yourself via the Intention Form, available on our website where you may also find out lots more about SVI, our permanent staff, programs, calendar, and stuff. Call us if you have any questions or do not have access to the web.