Guided Tours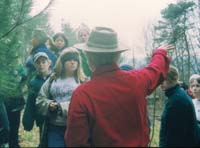 Thousands of school children and college students have taken tours of our demonstration structures and permaculture gardens. Visits begin with a naturalist-guided hike up our forest trails. In June, 1999 500 school children from Chattanooga low-income communities toured SVI as part of a federally-funded summer enrichment program called "A Light in the Forest." Gifted classes, special students, and science classes have come for tours and programs. In-school presentations by SVI staff prior to tours provide an introduction for teachers and students.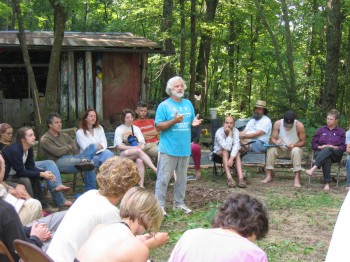 We have hosted hundreds of adults on tours and open house days. Visiting groups include the National Solar Homes Tour, the Tennessee Aquarium, the Outdoor Education Master Teachers Program at Southern College, the Tennessee Wildlife Center staff, Adult Education classes, senior citizen groups, and local garden clubs. We also welcome individuals and family groups.
Teacher Enrichment Workshops: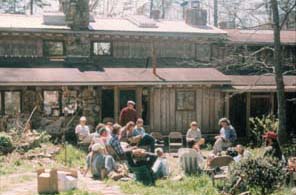 In 1997, SVI designed and presented a unique enrichment workshop for teachers from local area schools. "Alternatively Charged! An Adventure in Sustainability," was a two-week intensive hands-on learning experience for fifteen teachers. The teachers participated in workshops on organic gardening, solar energy, forest ecology, water quality, ecological building concepts and more. The participants were empowered to alter their classroom curricula and teaching techniques to include inquiry-based learning, the natural world of our bioregion, and relevant issues of sustainable living. In 1998, we hosted a similar program entitled "Appalachian Culture," which looked at local traditions, coal mining, music, film and literature. Participating public school teachers from Chattanooga worked in teams to create new region-based curricula with a hands-on approach.
Research Projects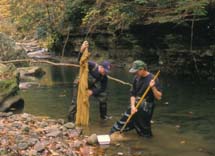 SVI staff, interns, visiting students, and scientists take part in research projects at SVI.
Projects have included
a study of the effects of UVB radiation on pines
TN amphibian monitoring program, a citizen's research project
study of organisms living in McIntyre Cave
inventory of plant and animal species in our watershed
monitoring tree mortality in mixed mesophytic forests organized in conjunction with the Appalachian Forest Action Project
raven monitoring program
study of insects conducted by students and staff from the University of Tennessee in Knoxville
soil studies
forest mapping projects
Definitive research that results from these projects is provided to the organization in charge of the research and to the public. Results may be published in appropriate journals.
Off-site Workshops, Presentations and Consulting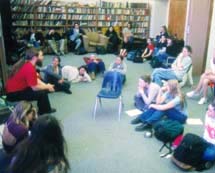 Our staff present lectures and slide shows for schools, groups and conferences, including the Sierra Club, the Southern Appalachian Man and the Biosphere Conference, the Tennessee Environmental Education Association, the Student Environmental Action Coalition and the YMCA Earth Corps. Presentations include tailor-made workshops and lectures on sustainable living and the environment. SVI provides information on environmental and sustainable energy programs for groups, schools, organizations, and individuals. We encourage collaboration between schools and organizations such as the National Wildlife Federation, the Tennessee Energy Education Network, and community-supported agriculture groups. Examples of these collaborations include projects at Whitwell Middle School and Scenic Land School. With our advice, the schools are developing energy efficiency programs, solar electricity systems, and outdoor education centers. Such projects provide exciting experiential learning opportunities for the children of our bioregion.