Since beginning our education programs for the public in 1996, SVI has hosted hundreds of individuals and groups at conferences, workshops, and meetings. These include the following experiential learning opportunities.
SVI Workshops and Conferences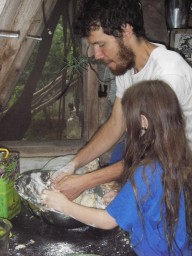 An excellent example of on-site conferences is the annual "Food for Life" conference, which has been an annual gathering since 1999. "Food for Life" provides skill building and networking opportunities for organic gardening, food preparation and preservation. Issues of agribusiness food production are addressed with a focus on the threats posed by genetic engineering and biotechnology. The Food for Life Gathering has included workshops such as these: Edible Landscaping and Principles of Permaculture; Canning, Preservation and Storage; Fermentation: Wine, Beer, Tempeh and Sauerkraut; Holistic Eating; Food Security; Nutrition and Cob Oven Construction and Use; Cookin' with Kids; and Food Choices.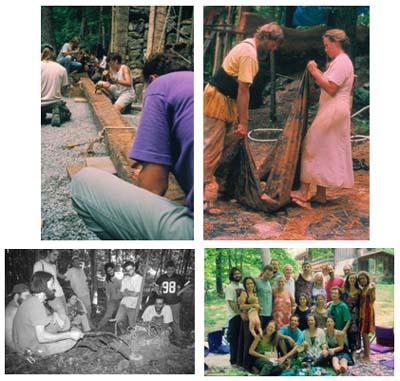 Other workshops have included "Healing Self, Healing Earth," where participants reconnect with the earth and with each other; "Lunch and a Log," a day-long workshop where folks learn how to inoculate a log with shiitake mushroom spores; "The Art of Edible Landscaping," a day-long educational tour of SVI permaculture; "Beyond the Veil: Gender and Deep Ecology," a focused 4-day experience providing an opportunity for participants to explore gender issues; and natural building workshops including timber-framing and cob, an ancient building technique using a mixture of native clay, sand and straw. And a workshop on Mule-Logging and Sustainable Forestry.
Hosting Retreats and Conferences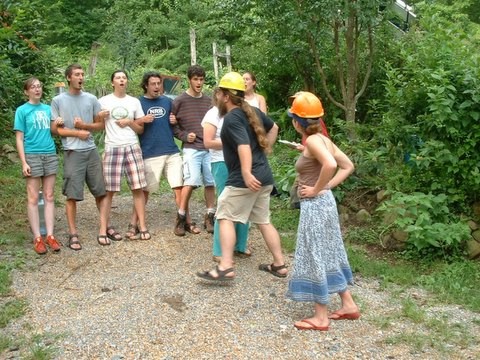 SVI at Moonshadow hosts meetings, field trips, retreats and workshops. Prior to the event, our staff works with the group organizers to develop custom-designed educational opportunities such as guided tours and hikes, short workshops, work-days, and demonstrations. SVI has hosted people from a variety of environmental and social justice organizations, youth environmental groups, sustainable farming groups, and other organizations. These include the Tennessee Aquarium, Dogwood Alliance, Tennessee Wildlife Center, Students for Environmental Action and the Tennessee Alternative Growers Association.
Open Space Technology Meeting Facilitation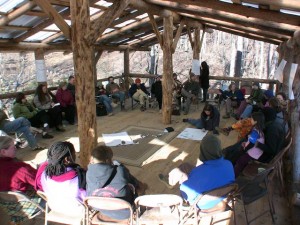 SVI makes its facilities available to groups or board meetings and offers meeting facilitation using Open Space Technology.  SVI has several spaces appropriate for large groups and plenty of beautiful spaces available for break out groups in its idyllic 300 acre forested mountainside conference center.
Open Space is a simple way to run productive meetings, and is a powerful way to lead any kind of organization in everyday practice and transformative change.  It has proven to be a powerful tool to revitalize any organization, bringing out passion and creativity from participants.  It has been used widely in many countries by thousands of groups and institutions.  SVI has used Open Space in our own visioning, and we are excited to make this service available to interested groups.
Events
We also invite the public to attend various functions such as naturalist-guided day hikes, work days, open houses and board meetings.