MEDIA RIGHTS brings under-reported news and information and thought-provoking art to the public. We work with video, audio, print, and computer communications. Projects include the following:
Earth Matters:
Earth Matters, a quarterly newsletter, covers SVI activities and offers a space for writers to be heard. We distribute the newsletter to 1,000 people. Visit Newsletters to download the current newsletter as well as some earlier editions.

Video, Audio and Photo Projects: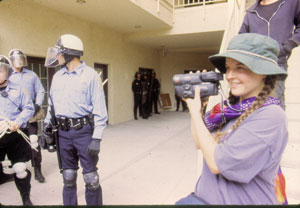 We cover environmental and social justice activities such as marches, rallies, protests, direct actions, conferences, action training camps, press conferences, trials and interviews. Using audio, video and photography, we help keep actions safe and nonviolent while acting as legal witnesses.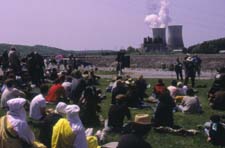 Our work is used in specific campaign workshops and conferences and has been seen through alternative press, public access cable, major network news programs, and video magazines worldwide. We have been involved in documenting issues regionally and also in Costa Rica, Arizona, California, Idaho, and Northern Quebec.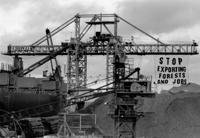 We created an hour-long video entitled, "Invasion of the Chip Mills." This documentary creatively educates the viewer about the devastating practices of large-capacity chip mills. These mega-facilities have invaded the Southeast and are moving north leaving a wake of clearcuts and frustrated communities behind. The video has been distributed across the country and has been shown on public access television, in university classrooms, in environmental group meetings and professional film and video festivals.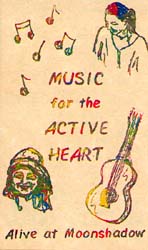 In addition to the activist work, we are developing "how-to" videos on making tempeh and miso, setting up a solar-electric system, binding books and more. MEDIA RIGHTS will produce these videos on tape and CD-ROM. MEDIA RIGHTS has produced a series of audiotapes recorded at Moonshadow called "Music for the Active Heart." We are currently working on tapes number three and four. These CD's are available for $15 each or $20 for both. Contact us to place an order.
Road-Shows:
"Invasion of the Chip Mills Tour." In 1997, MEDIA RIGHTS, in conjunction with the Dogwood Alliance, toured six Midwest states to provide the public with information on the issue of chip mills.
"Turning Point", a multimedia road show, toured the Southeast from February through March 2001. This tour incorporated words, slides, videos and songs to educate people about corporate globalization and environmental destruction. We encouraged people to challenge this destructive paradigm and to consider visions and realities of possible alternatives.
Public Art
Another unique project of MEDIA RIGHTS was "Art-in-Transit." The purpose of this poster contest was to develop social justice and environmental awareness in Chattanooga through arts and culture. In cooperation with the Chattanooga Area Regional Transit Authority, local businesses and arts organizations, "Art-in-Transit" displayed environmental and socially conscious work of local artists and school children on city buses. This project brought art into the streets and into the daily lives of Chattanooga bus riders. We continue to reach thousands of people yearly with these creative messages.
SVI Website
We appreciate the support and compliments on our website, and rely on this wonderful medium to promote the mission of SVI and our optimism for a logical and sustainable future of Earth and all of it's inhabitants.