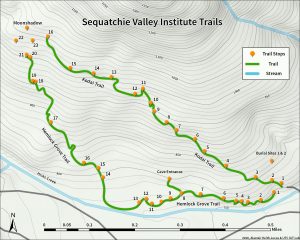 Nature Trails 4a 2016 SVI 2 column
Discover our newly developed self-guided round-trip nature trails to learn more about the forest ecology, plants, and history of the 350 Acres of mountainside at Sequatchie Valley Institute, through land protected forever by the Land Trust of Tennessee. The easy-to-moderate well-marked trails begin at the Valley bottom, at the Liquidambar Art Gallery,  with art for sale made by SVI staff and local artists.  An interpretive booklet provides information for the numbered stops along the trails.  Both trails end below the bluffs at Moonshadow, the Sequatchie Valley Institute center, hand-crafted and solar powered, surrounded by permaculture gardens. The round trip will take 1-2 hours allowing time for observation of nature. You may wish to bring a picnic lunch and drinks for stops along the way.
Children are welcome  and should have no problem managing the trails. Trail runners are welcome, but trails are not suitable for bikes.  No pets, please.
The Gallery and trails are available on most weekends.  Please call or check our Liquidambarsvi.wordpress.com website for dates and times we are open.  Hiking trails are free when open and sponsored by SVI, a non-profit 501(c)(3) organization promoting education and research in sustainable green living, ecology, and art at http://svionline.org.
For more info on the gallery, see:
Liquidambarsvi.wordpress.com; https://liquidambarsvi.wordpress.com
Facebook liquidambargallery.SVI. https://www.facebook.com/sequatchievalleyinstitute
Proceeds from the Gallery help support the programs of SVI.