Since 1999, thinkers, practitioners, dreamers, and eaters have gathered at Sequatchie Valley Institute for the annual Food for Life event near Chattanooga, TN.
For our 20th year celebration, we welcomed back Sandor Katz as our keynote speaker and instructor. He is the award-winning author of such titles as "The Art of Fermentation" and "Wild Fermentation," books which comprehensively and thoughtfully cover numerous forms of food preservation. The event was very successful, with over 60 wonderful participants and many workshops.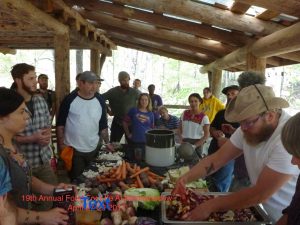 Many thanks to all our workshop instructors, cooks, work traders, donators, and sponsors!  All our instructors donated their wisdom, time and energy to Sequatchie Valley Institute, so they deserve our deepest thanks.  The work traders made the program possible with their dedication and energy.  The cooks provided fabulous meals, amazingly plentiful and right on time.  S.V.I. did manage to provide small stipends for their many hours of HOT work.  We hope that in the future S.V.I. will have enough funding to provide more compensation to our staff and program presenters.  In the meantime, we provide our love and appreciation!  Our schedule is attached below, with the names of our presenters.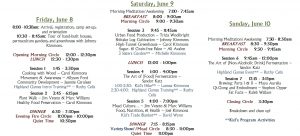 We will let you know the dates for the 21st Food for Life as soon as it is arranged, so watch this site and our S.V.I. Facebook page for all our upcoming events.
Come to see us in the mean time!  Liquidambar Art Gallery and nature trails, including the Pipsissewa Arboretum Trail are all open most weekends, from 10a-5p in the summer.  Watch Facebook to be sure we are open, and come on out!
You may also arrange 2-3 hour tours for kids, scouts, families, and adult groups.